CSR-547-Bimming Health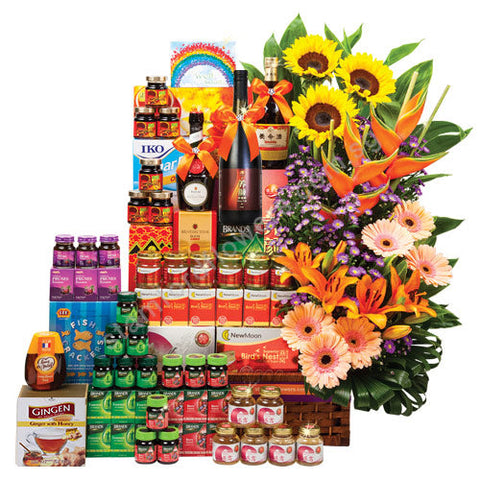 CSR-547-Bimming Health
(Price before GST)

Yomeishu Health Tonic (700ml)
Benedictine D.O.M. Herbal Liqueur (375ml)
Popular Singapore produced Yi Shi Yuan's Beauty Buddy Health Tonic (750ml) -A Traditional Alcohol Free Recipe crafted with the precious FINEST GRADE Chinese Herbs that promote blood cell production, relieve cold hands and feet and maintain healthy skin complexion. Suitable for Vegetarian, both gender of all age group and the frail who unable to ingest stronger tonic
Dragon Brand's Bird's Nest with Rock Sugar (70gx6)
NEW MOON Bird's Nest with Rock Sugar (70gx6)
BRANDS Essence of Chicken (41gx6)
BRANDS Berry Essence (41gx6)
Su Fei Chooi's Brand Essence of Cordyceps with Wild Ginseng (70gx6)
Fomec's California PRUNES Essence (42gx3)
French Lume de Miel Pure Honey (250g)
GINGEN Ginger with Honey (180g)
LEE's Cheesy Fish Shape Crispy Crackers(140g) with Garden Flora of Helicondias, Elegant Lilies, Sunflowers and Sweet Gerberas.
---
More from this collection